Fashionlicious about GoldenOil
GoldenOil pure and natural argan oil products
GoldenOil is a 100% natural argan concentrate with many benefits for the skin, hair and nails. Argan oil is an oil that is pressed from the kernels of the argan tree that grows in the southwest of Morocco. The oil contains a high dose of unsaturated fatty acids and has a high content of linoleic acid (omega 6). Due to the high concentrations of rare and precious ingredients, corrects the deficiencies of essential fatty acids, which are of crucial importance in the prevention of aging of the skin. Daily use of GoldenOil helps to reduce wrinkles and prevent hydrates the skin, strengthens nails and hair and scalp care.
GoldenOil is free from additives and consists entirely of pure argan oil, there are not even any perfume or preservatives are added to the oil. This makes the product suitable for everyone, regardless of skin or hair type.
(Translated from Dutch. The original Dutch text can be found here Fashionlicious.nl about GoldenOil.)

The Cupid Bow about GoldenOil
Golden Oil Face & Nails Argan Oil Review | The Cupid Bow
However I received a golden package in the post the other day (quite literally) containing argan oil for the face and nails from the dutch company Golden Oil. Lawd you have saved a sister!
Now I know there are many argan oil companies out there, however this stuff is the real deal as it actually is made in Morocco. Argan oil is produced from argan trees which are endemic to Morocco I'll have you know, so you're not going to get anymore genuine than this! This 75ml bottle is packed full of organic ingredients such as vitamin E and essential fatty acids for radiant and sublime skin. It's 100% organic, made purely with argania spinosa kernel oil and suitable for all skin types. Oh and have I mentioned that the packaging is beautiful? I'm a sucker for anything black and gold… The classiest combination!
I've been using Golden Oil's Argan Oil for the past week to give it a chance to prove itself and I am truly impressed with the results. I put it on at night after my usual cleanser, toner and moisturiser regime and let it soak in whilst I sleep. When I wake in the morning I can instantly feel that my skin is still hydrated, whereas before I would wake up with my skin feeling incredibly tight. It has been the piece missing from my skincare puzzle and I highly recommend it. You can purchase this argan oil and other products from Golden Oil off their main website here.
(Read the full review text at Golden Oil Face & Nails Argan Oil Review | The Cupid Bow)
Expressing Beauty about GoldenOil
Save your skin with Argan oil Goldenoil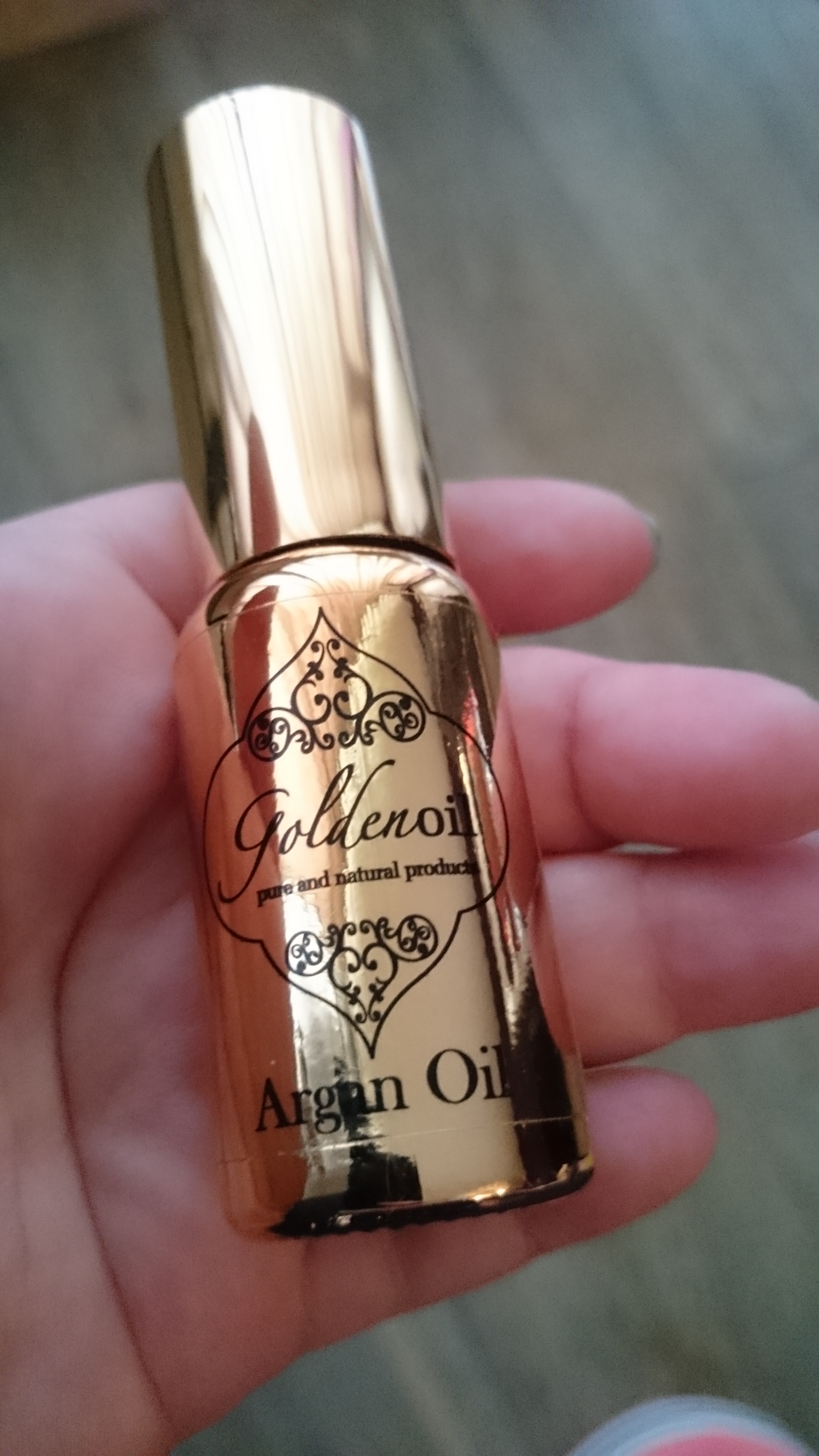 GoldenOil's Argan oil is to be applied in several ways, such as on your skin, but I just smear it in my hair tips. I love GoldenOil's Argan oil so I will continue to use it with love! It makes my hair really good, is to dose properly by spray cap and easy to use! And I have to add NOTHING anymore. I'm fond of the Argan oil and therefore very pleased with Goldenoil!
(Translated from Dutch. The original Dutch text can be found at GoldenOil's Argan oil)